Duurzaamheid
Hard-en Zachthout staat voor duurzaamheid en kennis van houtbewerking. Niet alleen leveren we hoogwaardige houtsoorten, we bewerken ze ook. Wilt u een uniek blad voor u (tuin) tafel of misschien wel een complete tafel? Onze timmerman maakt het voor u. En ook voor ander meubilair draait hij zijn hand niet om. En het grote voordeel is dat wij u direct de voorbeelden uit ons assortiment kunnen tonen en dat u ter plekke een keuze kunt maken uit de vele houtsoorten. Neem contact met ons op en we informeren u graag over de mogelijkheden.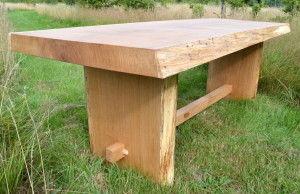 Herkomst hout
Wij kopen het hout op de stam. Het meeste hout komt uit Nederland maar we leveren ook hout uit Duitsland, België en Frankrijk.
Houtbewerking
Het hout wordt bij binnenkomst gesorteerd op kwaliteit, lengte en doorsnede. Sommige houtsoorten, zoals het iepenhout, worden eerst langdurig gewaterd om de kleur, de kwaliteit en de duurzaamheid optimaal tot zijn recht te laten komen. Daarna zagen we het hout in diverse afmetingen en diktes. Kijk voor het totale assortiment onder Producten en Prijzen. Natuurlijk kunnen we het hout ook in bestek zagen of schaven.
Droogprocedure
Afhankelijk van de houtsoort wordt het eerst 6 tot 12 maanden aan de lucht te drogen gelegd in de loodsen. Daarna wordt het hout na behandeld in de speciale, zeer geavanceerde, droog kamer. Het vochtpercentage ligt bij ons hout bij circa 10%.